In seed time learn, in harvest teach, in winter enjoy.—William Blake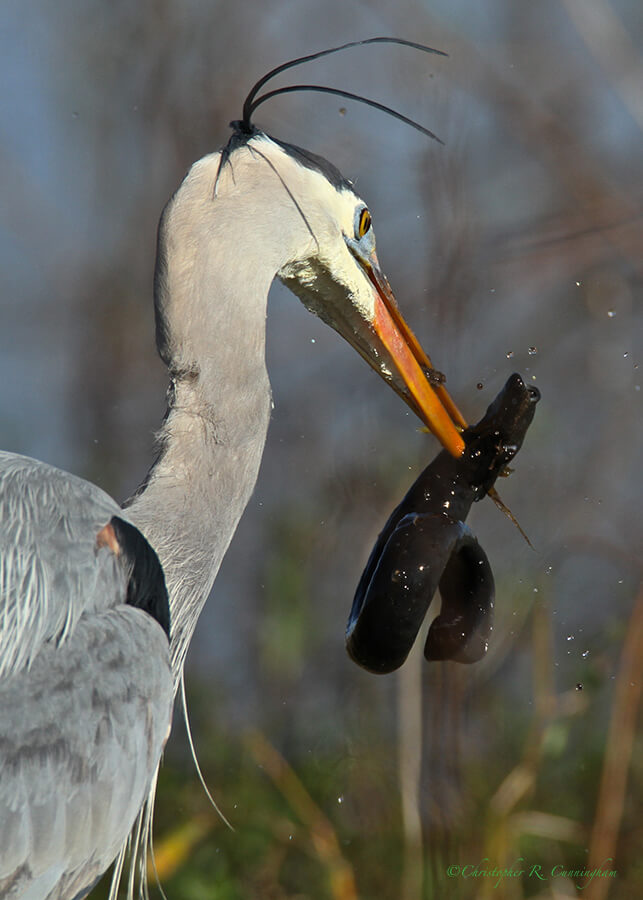 The south side of Pilant Lake, Brazos Bend State Park, Texas is the best place I know to photograph wader hunting and fishing behavior in a freshwater habitat. This winter, Pilant Lake has been a rich source of observations involving waders taking a variety of prey, amphibians in particular. Over the past few years I had heard several reports of Great Blue Herons taking Lesser Sirens (Siren intermedia), large salamander-like amphibians that have lost their hind limbs through the evolutionary process, from the area immediately north of the observation tower. This grassy area contains scattered ponds and puddles and a few taller, woody plants here and there. The substrate appears irregular, soft, and saturated with water.
Ever since learning that sirens were frequently taken here, I have kept an eye on the area, especially during winter (when most of the reported events occurred), and on other areas in the park that look the same. Judging by reports from other birders, on several occasions I had apparently just missed a heron taking a siren. On 1/24/15, my patience finally paid off, though. A Great Blue was hunting very near the tower, so I set up, chimped my settings, and waited for the action to unfold. Almost immediately the bird plunged it head nearly eye-deep into the muck and froze.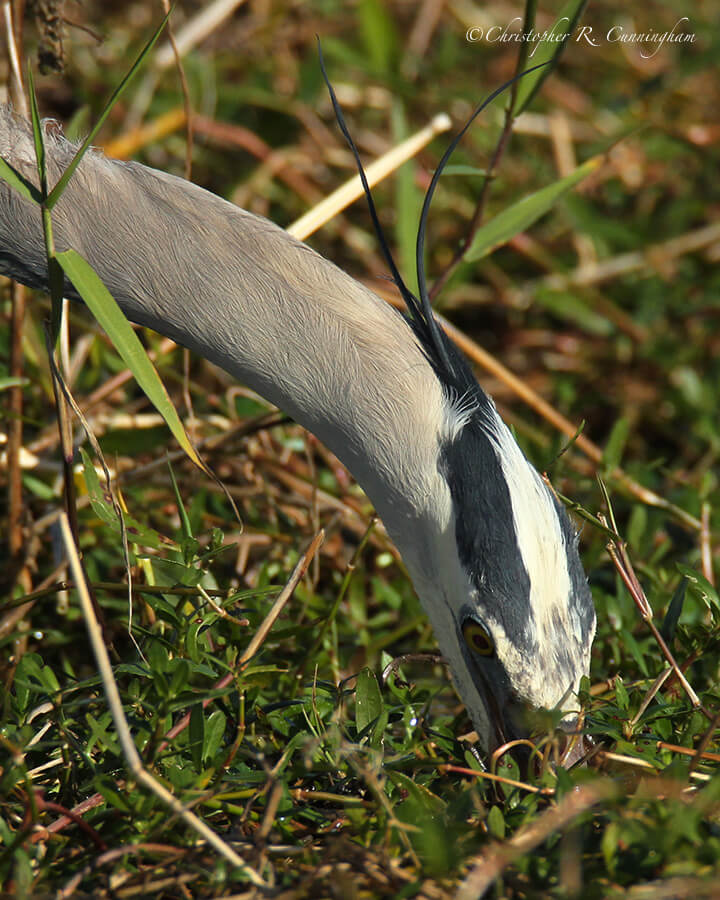 I could tell that the bird was straining to pull up something big. At that point I knew that the heron had found a siren in a burrow—any lesser critter would have been yanked out immediately! After about five seconds, the bird pulled its head up without a meal. Over the next hour or so, the bird waited patiently over the burrow. Finally the bird struck into the mud again and dragged out the huge wriggling amphibian. The bird had speared the siren in the right shoulder region through to the throat with the lower beak and clamped the amphibian in place with the upper beak. Because a noisy group of babbling tourists had descended upon the tower, the heron almost immediately flew off with its catch. Pity.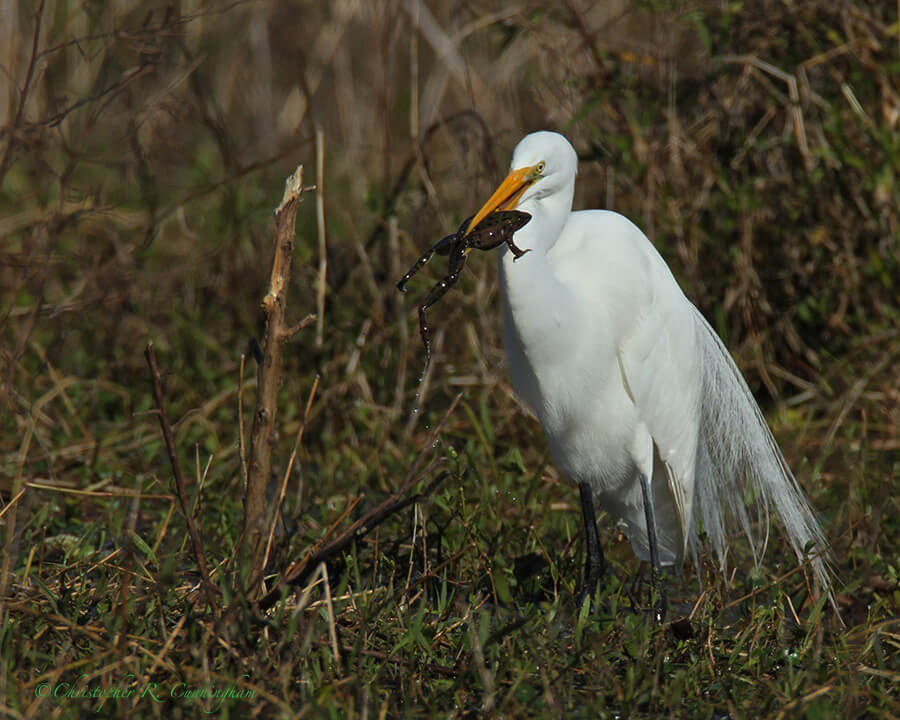 In addition to sirens, this area is rich in other amphibians (especially frogs) during winter. Most commonly, waders take American Bullfrogs (Rana catesbeiana) and Green Treefrogs (Hyla cinerea), along with an occasional Southern Leopard Frog (R. sphenocephala). Green Treefrogs are most often taken from the water hyacinth that grows in profusion in Pilant Lake, as well as taller plants that grow at the margin of the water. In summer, I have seen Little Blue Herons and Great Blue Herons take Eastern Newts (Notophthalmus viridescens) in this area, too.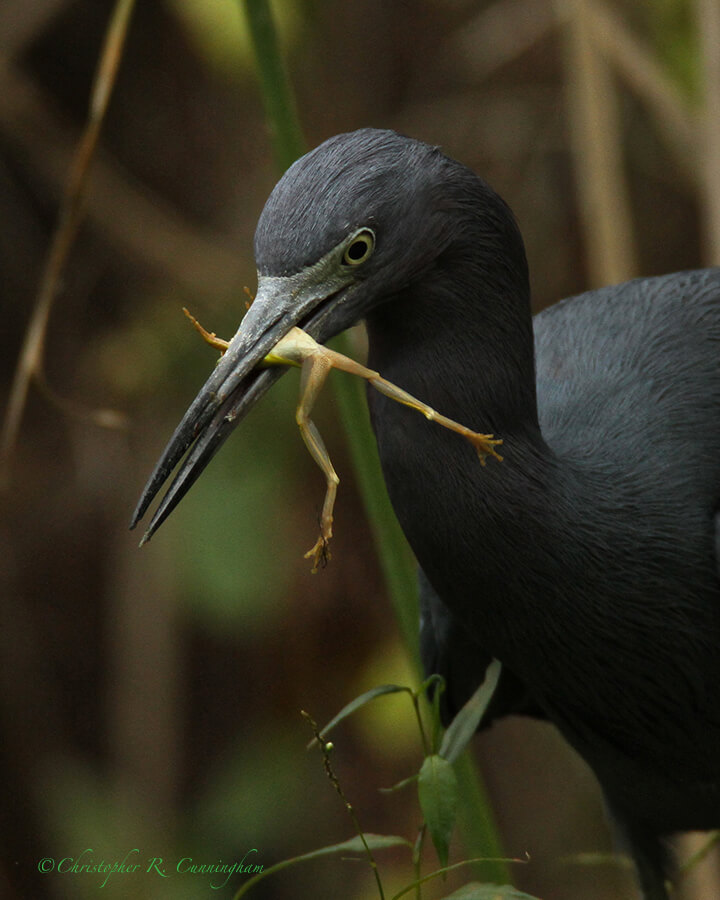 Amphibians are the most exciting prey items that you are likely to see being grabbed by waders at Pilant Lake—mostly you will see invertebrates like crawfish and water tigers being eaten. Small fish are also frequent prey. Eventually I hope be on hand when a water snake or baby alligator is grabbed. I have heard reports of American Bitterns taking songbirds from the marsh vegetation, and photographs exist of Great Blue Herons grabbing baby nutria in similar environments. It's only a matter of time before I can document these relatively rare and exciting events at Pilant Lake.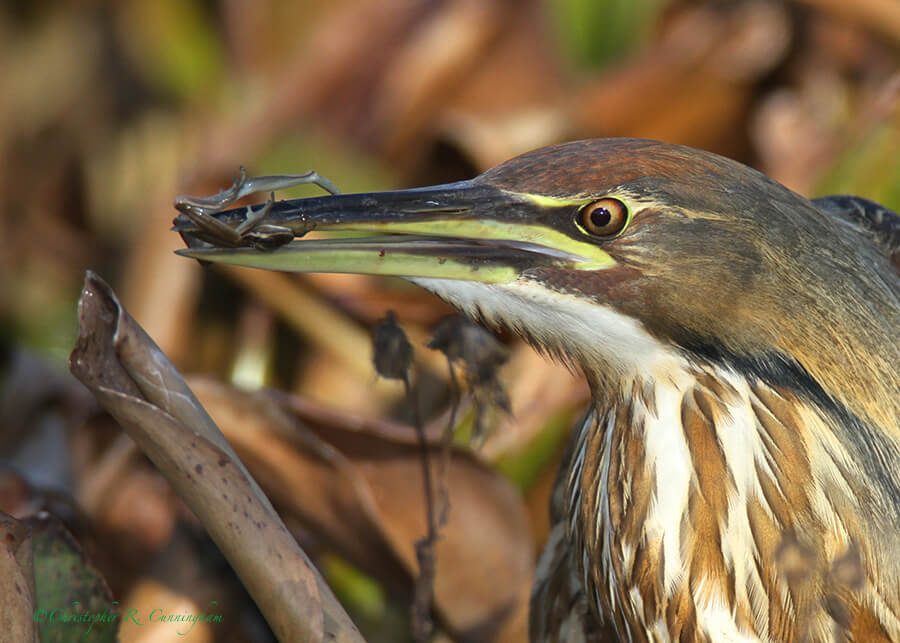 ©2015 Christopher R. Cunningham. All rights reserved. No text or images may be duplicated or distributed without permission.