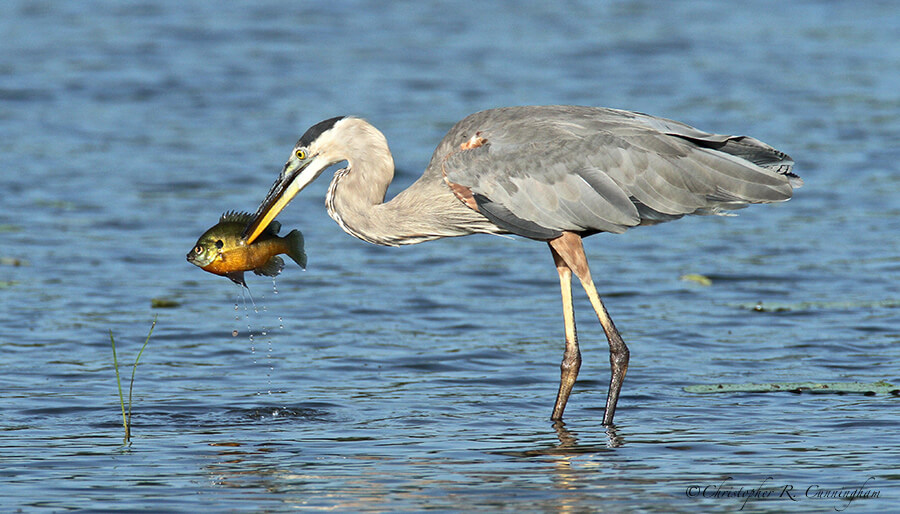 Waders are an endless source of birding pleasure for me. Their hunting and fishing strategies are highly varied, and I'm always on the lookout for techniques I've not seen before. This summer I spotted a number of interesting new things at Brazos Bend SP.
40-Acre Lake was a hot-bed of wader fishing behavior this summer. A Great Blue Heron with a slightly injured left wing (above) claimed the northeast corner of the lake for itself, frequently driving away lesser birds—like Little Blues, Tri-colored Herons, and Yellow-crowned Night Herons. The Great Blue, however, adhered to an uneasy peace with a Great Egret (shown below) that spent most of its time on the small islands a bit to the south. When they came face to face, they seemed to agree that the balance of powers was such that a fight would be fruitless.
For long stretches of time over a number of days, I observed the same Great Blue hunt and fish rather unsuccessfully—a bug here and there, a few muddled struggles with some snake-like sticks, but no amphibians or big fish. One morning, however, the bird swooped down from a tree top and stabbed the big bluegill in the above photo. The bird spotted the fish from at least 100 yards away, flew over, and speared the fish with a single thrust. No fuss, no muss. In a matter of minutes the fish was manipulated into swallowing position and ingested.
On another occasion, I saw the Great Blue place an insect on the surface of the water and stare at it for a few seconds. A gentle current carried the insect away from the heron. The bird suddenly snapped up and ate the bug before it got too far away. Was this bait-fishing of the type occasionally exhibited by Green Herons? Hard to say, but it's something new to watch for.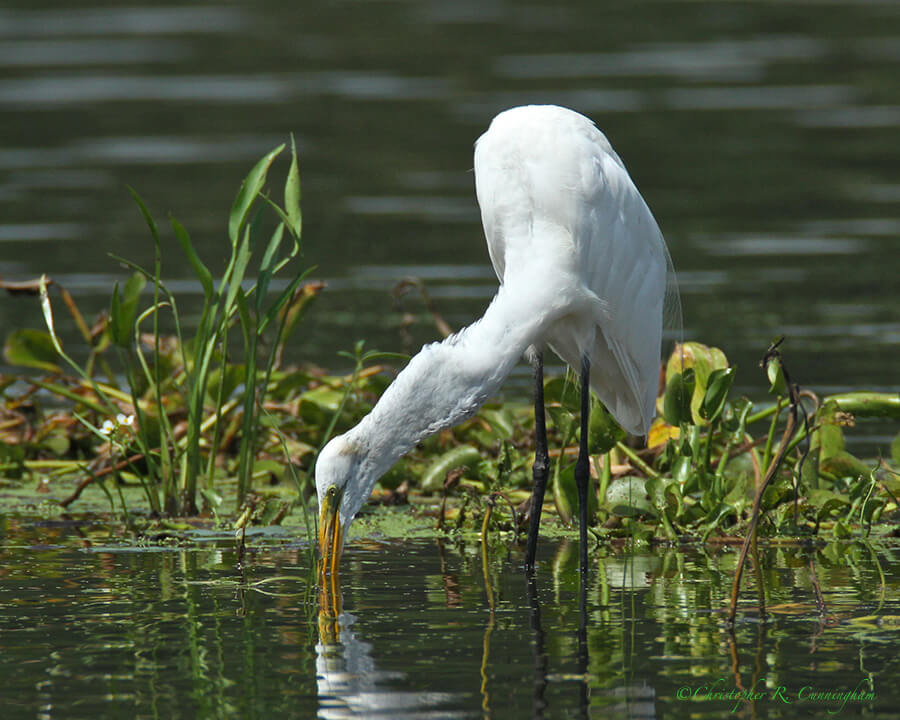 One morning I turned my attention from the Great Blue to the Great Egret. It had its head down, and held it there. It took me a moment to realize that the bird was engaged in a type of fishing often utilized by Black-Crowned Night-Herons. The stationary bird opened and closed its beak repeatedly while keeping it in the water, perhaps hoping the gentle rythmic disturbance would attract a fish.
One might surmise that after observing waders regularly in a single park over a few years' time, the surprises and new observations would cease. This is certainly not the case at Brazos Bend, where nearly every visit opens a new window into avian life.
Novelty has charms that our mind can hardly withstand.–William Makepeace Thackeray
©2014 Christopher R. Cunningham. All rights reserved. No text or images may be duplicated or distributed without permission.