Motion is tranquility. –Stirling Moss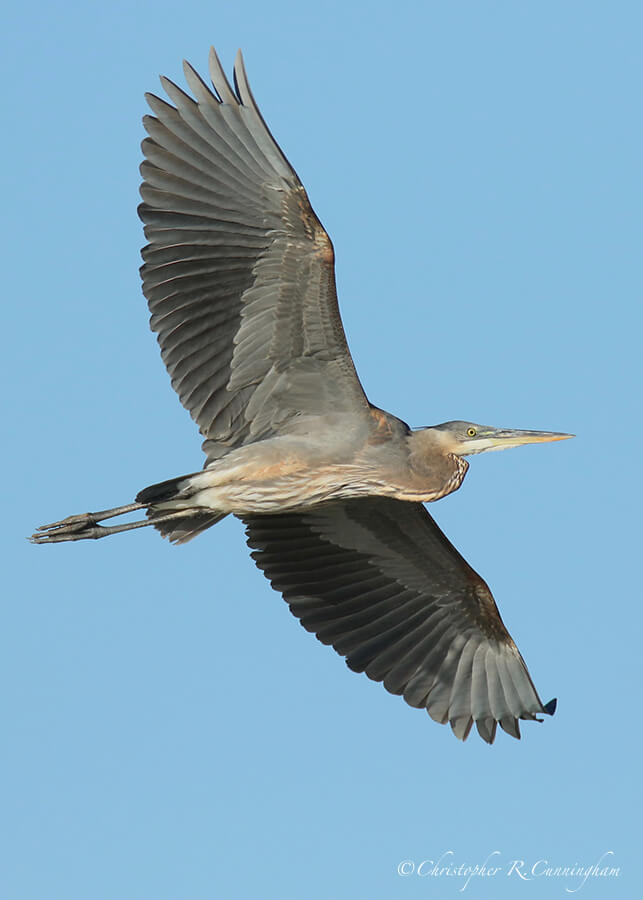 Despite being crowded, Fiorenza Park is a nice, easy get-away for Houston bird photographers. And there are a number of opportunities that would be difficult to realize elsewhere. I have already discussed some of the weird invasive species that can be observed here in previous posts. The most appealing opportunities, though, are offered by a hill that overlooks the bayou connecting the north and south lakes. A small road leads to within yards of where to stand for optimum shooting on the hill-top—talk about your low-energy photo-birding!
Cormorants can be seen flying from the south lake and along this bayou carrying nesting materials and fish to small islands in the north lake (and back again empty handed, so to speak). Sometimes the birds fly almost at eye-level as seen from the hill. Besides cormorants, waders sometimes fly along the same path. The hill-top also allows the photographer to survey most of the bayou where waders can be seen hunting.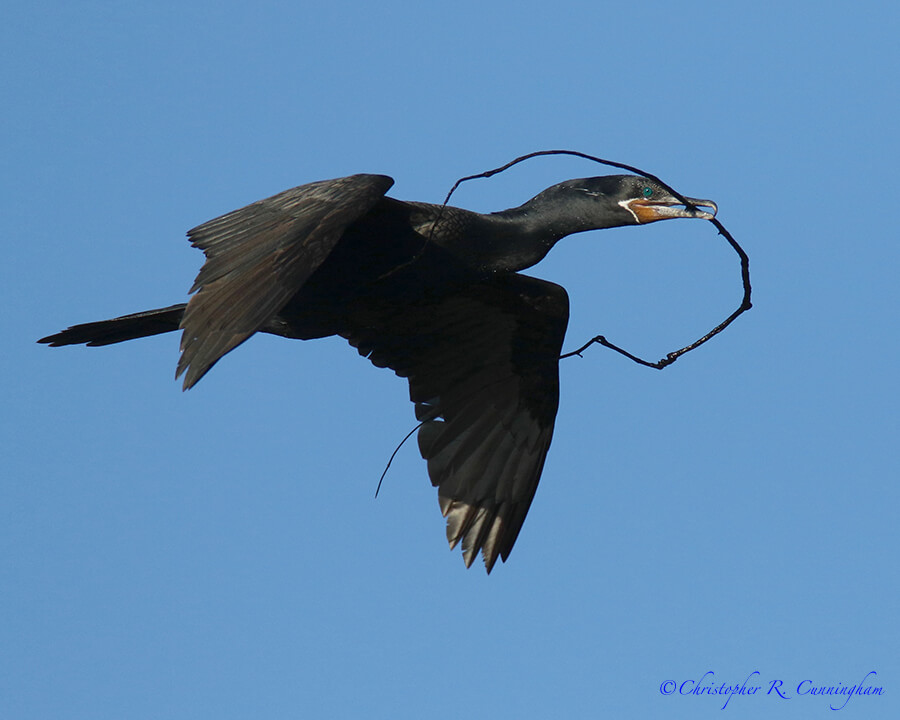 I struggled initially with this spot because the birds typically come in too fast for my normal (albeit unusual) photographic technique: I pick my shots and shoot one frame at a time (with autofocus confirmation). My rationale for this is three-fold. If I am shooting with flash, the flash capacitor can't recharge fast enough to keep up with a high frame rate. Also, the typical machine gun approach is hell on shutters. This is not so much of a problem with the 7DII, which is rated for 200k actuations, but the old 7D had a life expectancy of only 100k shots. A burned-out shutter is no fun right in the middle of shoot. Just firing away in high-speed mode also means weeding a bunch of junk shots, which is also no fun.
For this locale, I switched to a more typical bird-in-flight (BIF) methodology: I just blaze away in high-speed AI servo (without autofocus confirmation or flash) with image stabilizer in panning mode, and I pick out the goodies from a bunch of baddies. It definitely works better than my initial conservative approach.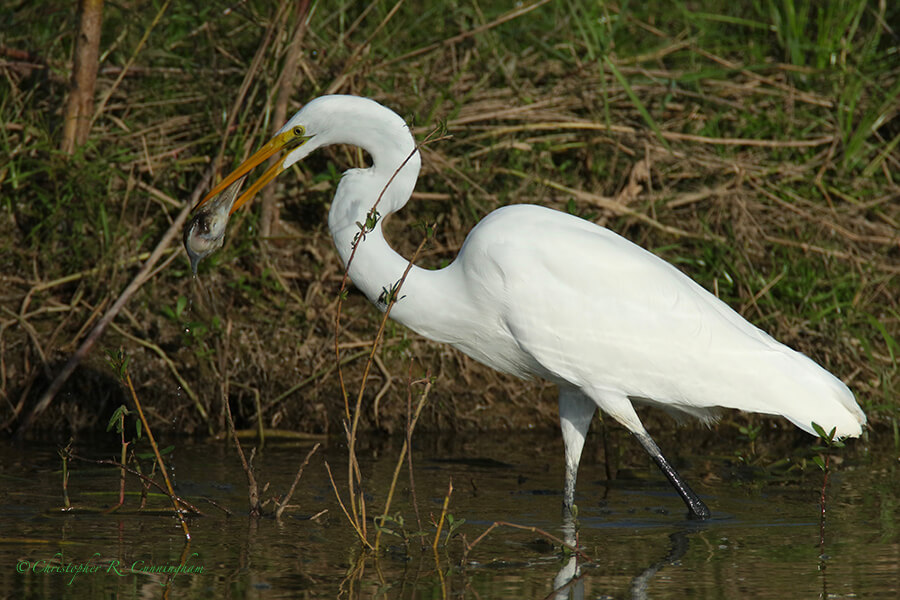 Despite the park appearing somewhat sterile compared with, say, Brazos Bend State Park or many of the local national wildlife refuges, Great Blue, Little Blue, and Tricolored Herons and Snowy and Great Egrets enjoy great hunting success along the Fiorenza bayou. South American armored catfish are often taken, and I have heard anecdotal reports of Tilapia, (a South American invasive cichlid) also being grabbed.
Having the camera in the BIF mode described above had one unpredicted benefit in the case of the image below. I saw the bird strike and just blazed away. I never actually saw what the bird had until I chimped for exposure ex post facto. According to the frame rate, the bird was in contact with the snake for about 4-tenths of a second in total. The snake was wound around the bird's beak for about 2-tenths of a second when the bird dumped the snake. According to long-time friend and herpetologist D.S. who identified the snake for me, the diamondback watersnake is an extremely aggressive fast-biter when cornered or attacked. I can vouch for this expert assessment: This bird wanted no part of that snake once it figured out what it was dealing with.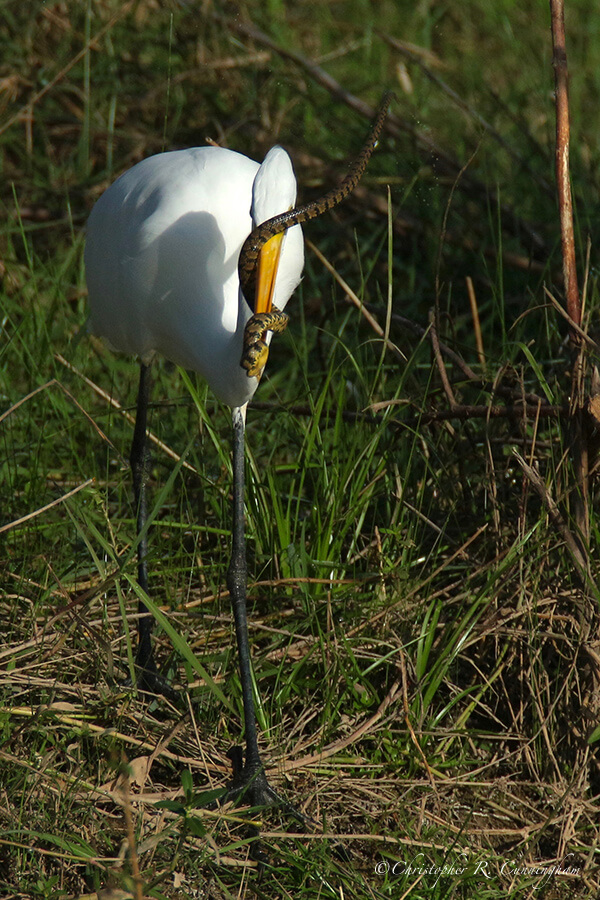 ©2016 Christopher R. Cunningham. All rights reserved. No text or images may be duplicated or distributed without permission.