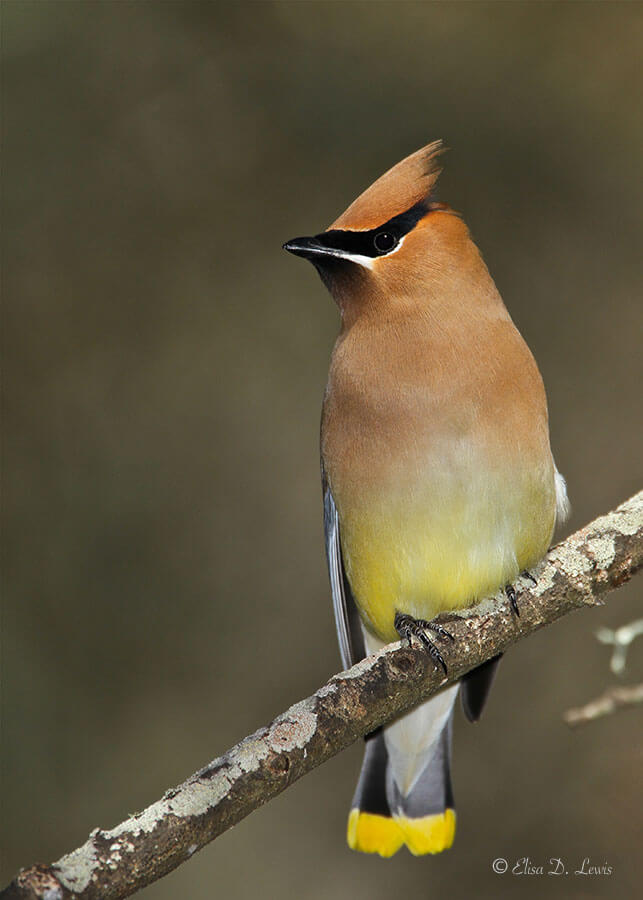 If you find yourself among any berry-laden shrubs and trees during the Texas winter or spring, you just might be engulfed by the sound of high-pitched trilling whistles followed immediately by a foraging flock of finely-feathered Cedar Waxwings. This is a birding experience not to be missed. I have often found myself delightfully engulfed by scores of Cedar Waxwings plucking late winter – early spring berries from stands of native yaupon (and pockets of invasive and unwelcome privet). Even so, I had been unsuccessful at capturing a decent image of these beauties – until now. This image was taken near the dripper at Lafitte's Cove, Galveston Island, TX  which was full of yaupon (Ilex sp.) with ripe berries this past Tuesday. Finally, a clean shot!
Since Cedar Waxwings are primarily (though not exclusively) frugivores, these migrants tend to hang out here longer than our avian winter Texans which chase insect populations on the way to their summer breeding grounds. Cedar Waxwings are known to eat the berries of cedar, mistletoe, juniper, madrone, honeysuckle, crabapple, hawthorn, mulberry, serviceberry, dogwood, and more – a smorgasbord of successively ripening berries. So, as you bird for early spring migrants plucking insects and spiders from the vegetation, keep an eye out for ripe berries of all sorts and perk your ears for the Cedar Waxwing's telltale song.
© 2013 Elisa D. Lewis. All rights reserved. No text or images may be duplicated or distributed without permission.