When, according to habit, I was contemplating the stars in a clear sky, I noticed a new and unusual star, surpassing the other stars in brilliancy. There had never before been any star in that place in the sky.–Tycho Brahe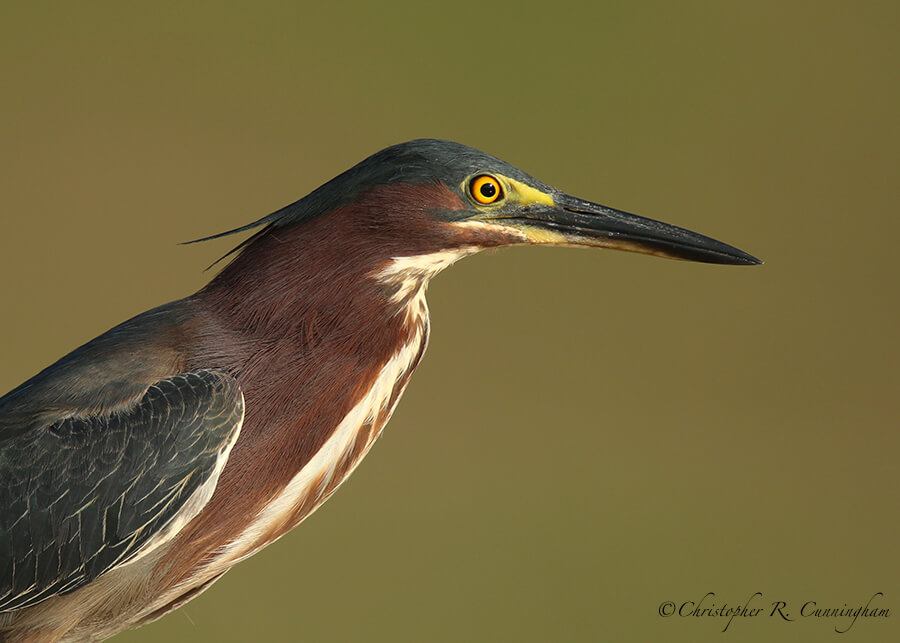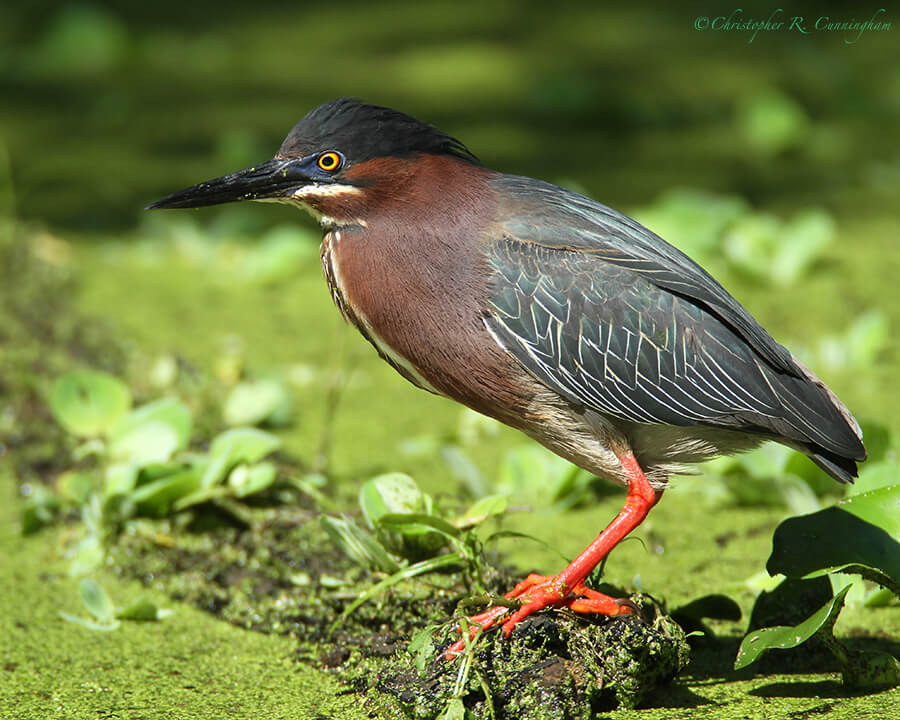 The Green Heron may be my favorite wader. This bird is unusual in a number of ways. On the small side (7-9 oz) for North American waders, the Green Heron is brilliantly-colored. The sexes are said to be similar, with females having slightly duller coloration. Immature birds have whitish triangular flecks on the wings and more white around the throat than adults. A number of subspecies are recognized by experts, but some of these are rejected by others. Some Green herons migrate, and others do not. Reportedly these two populations can be distinguished biometrically: the migrating birds have longer wings.
No wader is more fun to watch hunt. Like most North American waders, Green Herons are indiscriminate in their choice of prey: fish, frogs, tadpoles, crayfish, insects, spiders will all do. But their repertoire of hunting behaviors is unsurpassed. They will hang in wait, gargoyle-like, from logs, hide from fish below on tops of lotus pads, or stroll through the weeds like other waders in search of small prey, vertebrate or invertebrate.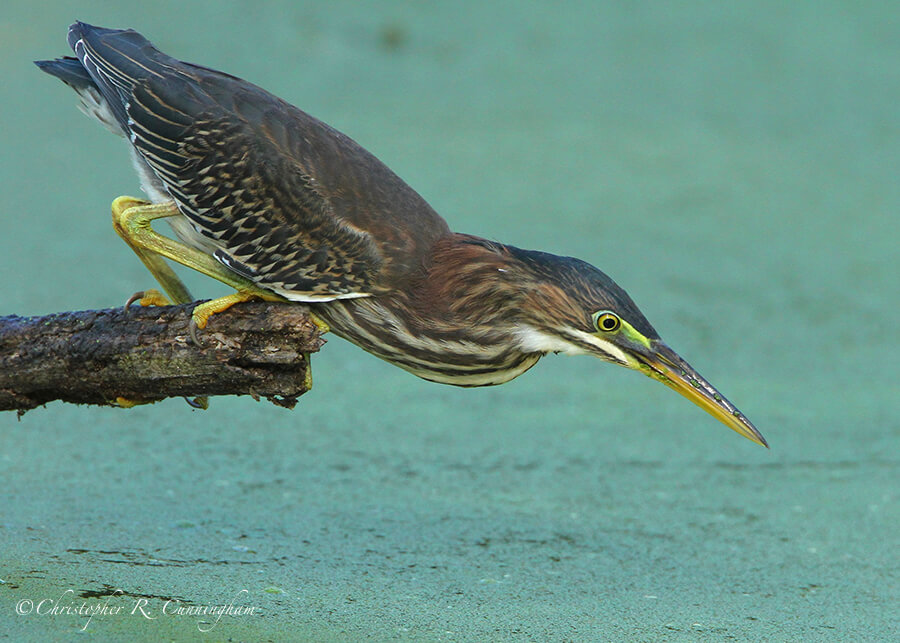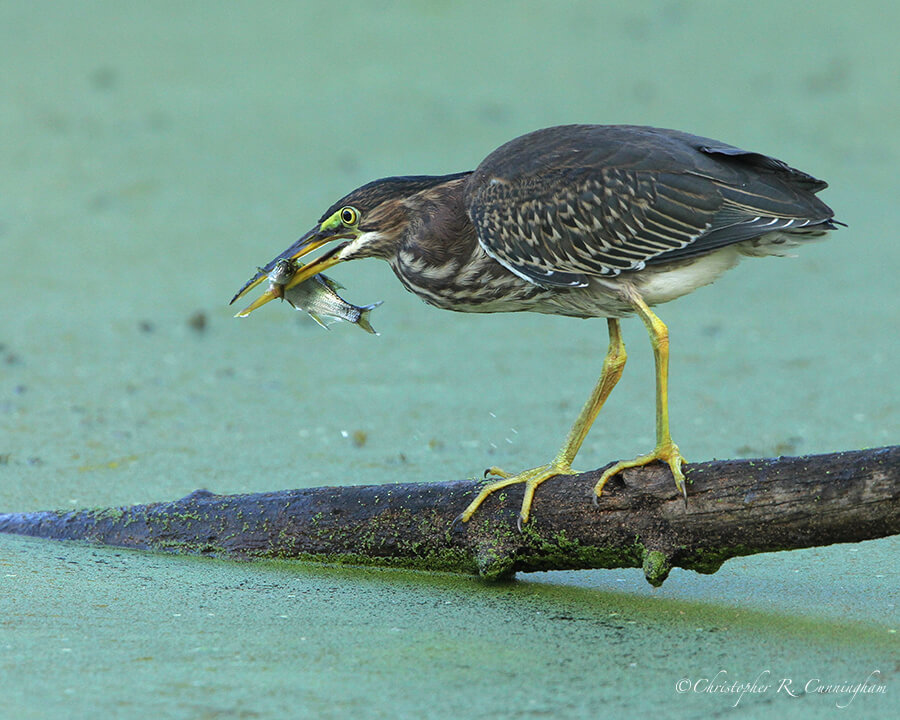 Most interestingly, Green Herons use tools. They exhibit bait-fishing and have been known to drown air-breathing prey in water before swallowing. I have seen this done with frogs on a number of occasions. Likewise, it is possible (rarely) to see Green Herons bait-fishing by placing aquatic beetles on the surface of the water to attract prey at Elm Lake.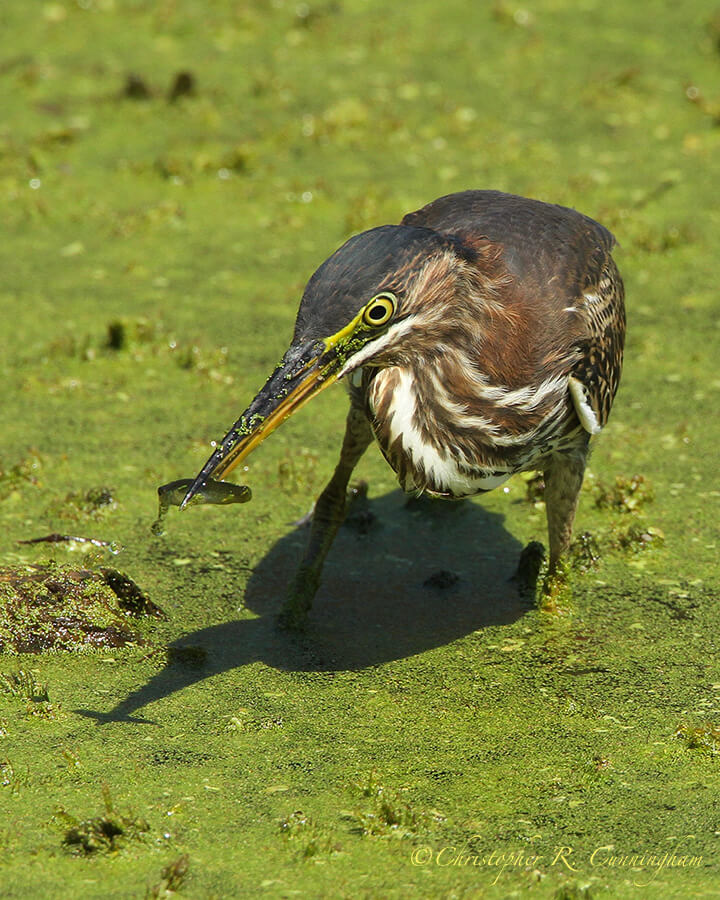 Although Green Herons commonly nest across the eastern half of Texas, I usually see Green Herons in non-breeding colors. Only rarely do I see full breeding colors. Green Herons generally do not nest among large wader rookeries as most herons do, but when they do, they tend to nest away from the masses. They will nest in single pairs or in small groups, too.
While Texas Coastal populations will remain for the winter, soon the inland populations will be largely gone for wintering grounds in Mexico and Central America. They will return again next year for the sweltering summer weather.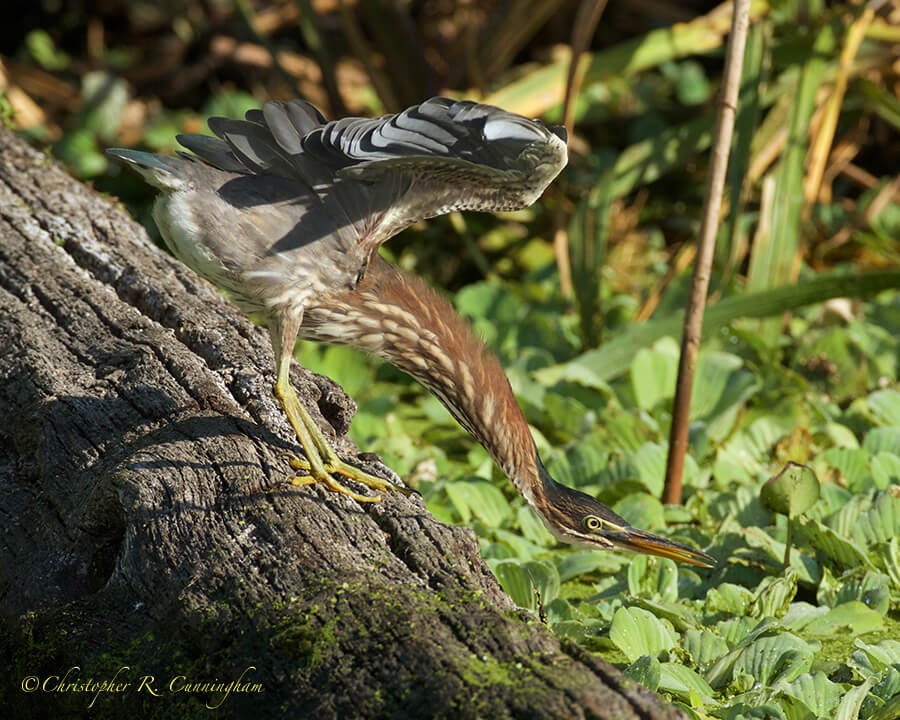 ©2018 Christopher R. Cunningham. All rights reserved. No text or images may be duplicated or distributed without permission.