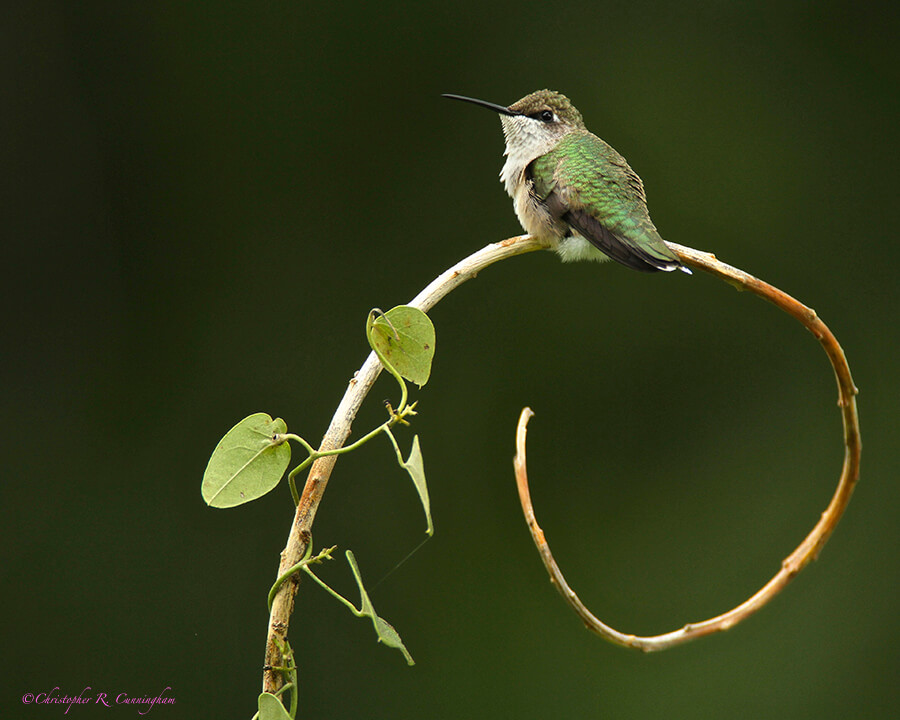 For most of the month of September, a (presumably) transiting juvenile male Ruby-throated Hummingbird laid claim to a patch of native plants in our back yard in suburban Houston. From a shepherd's crookish twig (a dead coral bean tree branch entwined with a greenbrier vine) this feisty little bird watched over his patch of turk's cap and coral honeysuckle. Occasionally he would make forays to visit our patio to sample the firespike flowers, but hour after hour he would sit, vigilant atop his curly perch. Whenever invading hummingbirds would appear he would, without mercy, drive them away and return to his throne. By the second week of October he was gone for parts unknown . . . perhaps he will return next year a king, gorget ablaze.
My crown is called content, a crown that seldom kings enjoy.–William Shakespeare
*I think that this is a first fall male because of the high level of aggression, the slight streaking of the throat, and one dark throat feather (not visible in photo). Although, it could possibly be an adult female. I invite comments from anyone who knows better.
©2013 Christopher R. Cunningham. All rights reserved. No text or images may be duplicated or distributed without permission.