What a book a devil's chaplain might write on the clumsy, wasteful, blundering, low, and horribly cruel work of nature! –Charles Darwin
Usually when one sees a wader grab a prey item, the prey is subdued, perhaps by a few pecks, then manipulated into position and swallowed. Today at Brazos Bend State Park, however, I observed a Green Heron grab a large American Bullfrog tadpole. The bird picked up and then dropped the tadpole a few times after intermittently pecking it. Finally the bird discarded the tadpole and walked away. I thought this strange given that waders of all species at Brazos Bend eagerly consume amphibians in all stages of development. Perhaps (although it seemed unlikely) the bird considered the tadpole to be too big to swallow?
I continued to watch the Green Heron fully expecting the bird to reconsider and return to the tadpole and eat it. Instead, it caught a juvenile frog and repeated the whole process! After pecking the poor frog a few times, the Green Heron just walked off without eating it. I have only seen this sort of thing once before when a Little Blue Heron captured and then discarded a crawfish. Do these waders hunt and kill (or at least maim) instinctively without being hungry, and without lardering the prey–just like well-fed house cats? If so, stone cold killers, these fellows!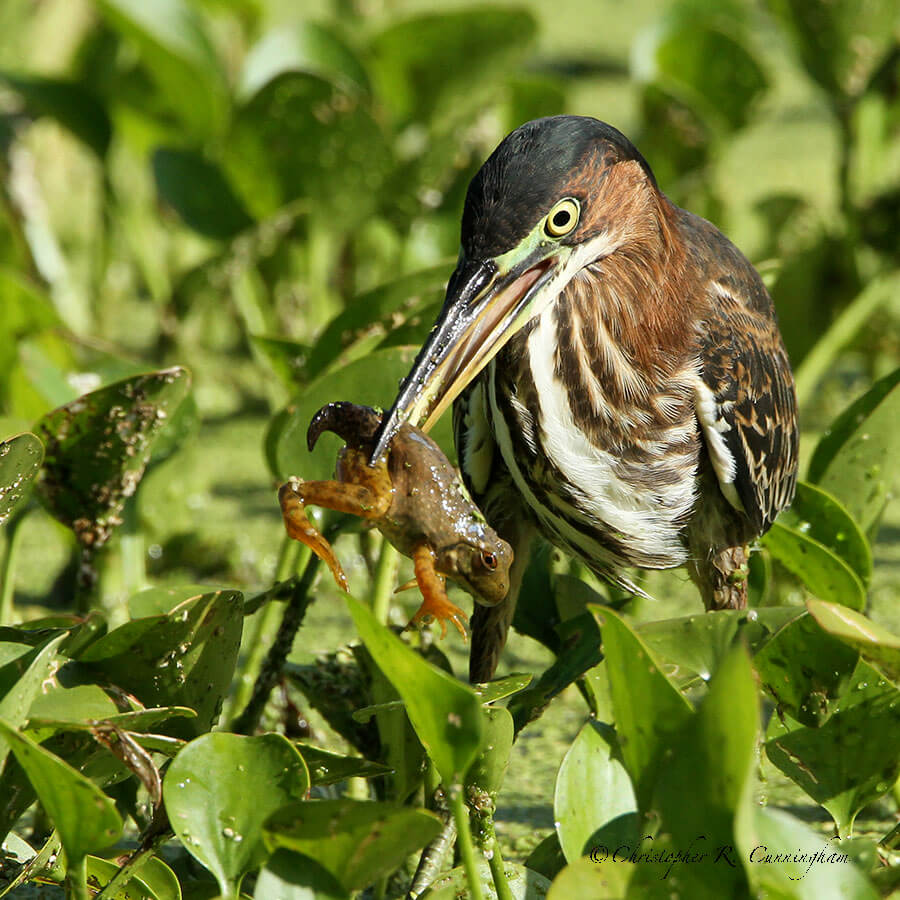 ©2012 Christopher R. Cunningham. All rights reserved. No text or images may be duplicated or distributed without permission.