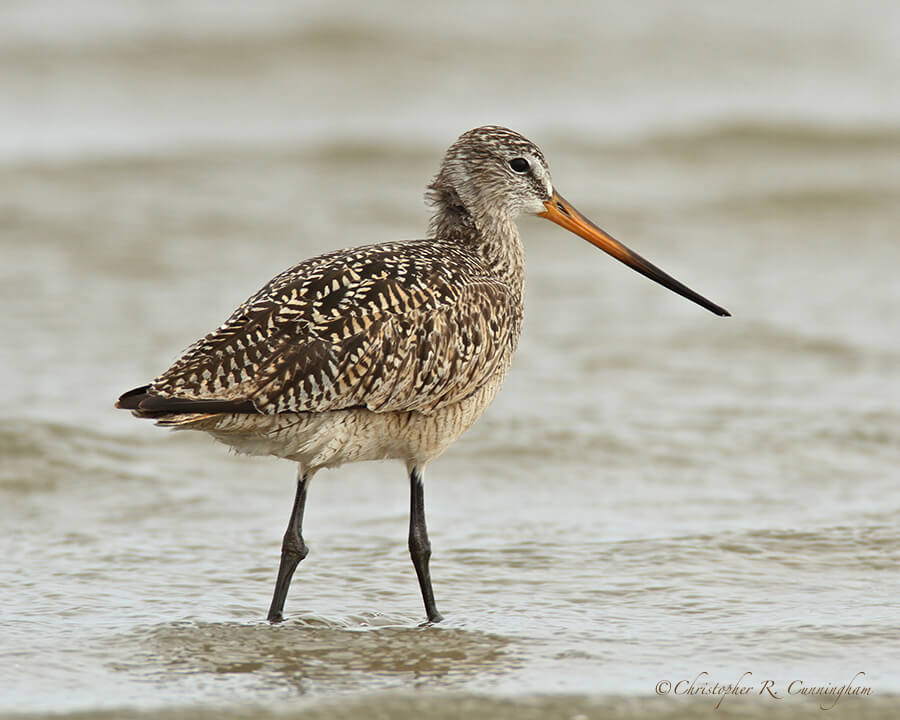 Having read a report of a sighting of a Hudsonian Godwit on Galveston several weeks ago, I recently kept an eye out for them among the flocks of Marbled Godwits on East Beach. For a few minutes I thought I had a Hudsonian Godwit in the viewfinder: The bird above has a bright orange bill base, and the back appears quite dark. The colors and barring on the underside of the bird, however, really seem to indicate that this is a Marbled Godwit. The vast majority (all but one it turns out!) of Marbled Godwits I have ever seen have had pink bill bases—even all the other Marbled Godwits I saw in the same flock on the same morning in early April (next two images) had pink-based bills. So what gives? Could this be sexual dimorphism? Breeding color? A little reading was in order.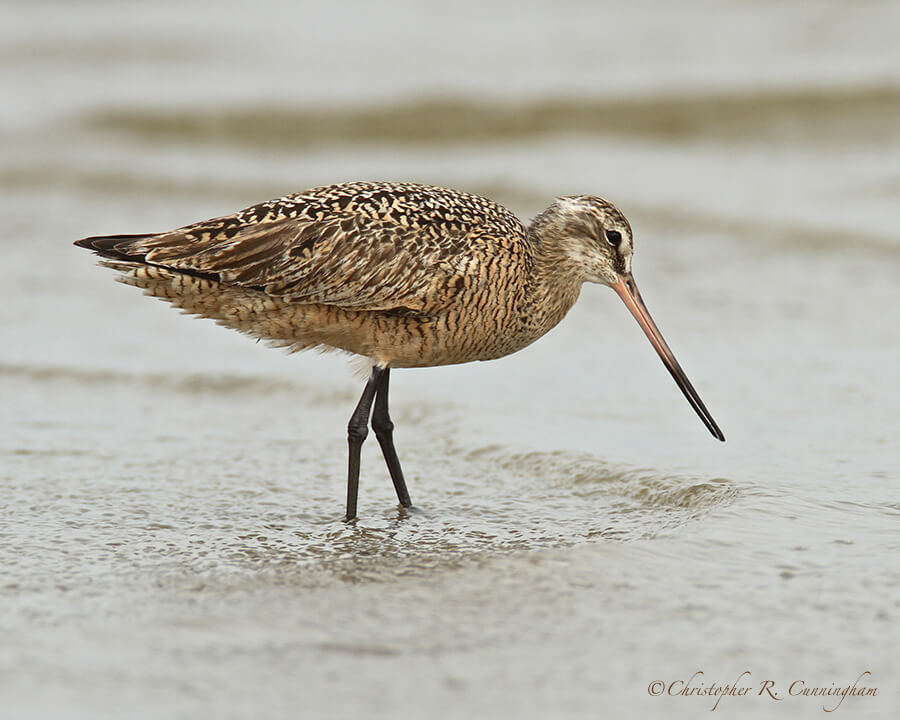 As far as field marks are concerned, Marbled Godwits show only a hint of sexual dimorphism, females being slightly larger (by millimeters on average) than males (Ayala-Pérez et al., 2013), but no reported obvious color differences—so no help here. In Arthur Morris' Shorebirds: Beautiful Beachcombers (1996), however, he explained that the orange-based bill in Marbled Godwits is a result of hormone level—during a time of "full breeding plumage." I suppose that this is similar to the case of the Snowy Egret. The lores and feet are yellow in "breeding" and pinkish red in "high breeding." I have seen Snowy Egrets sitting on nests in both breeding and high breeding color, though, so I'm not clear if there are any behavioral differences tied to these color differences, or what specific event in the reproductive cycle, if any, is tied to the appearance of high breeding color. More research and observation on my part are clearly required.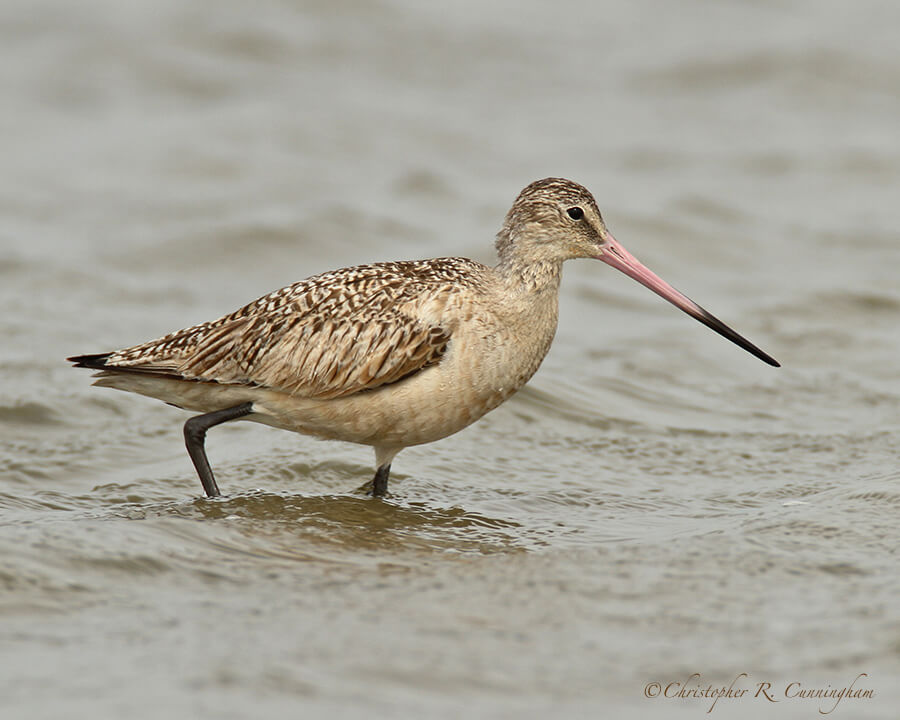 In spring on the Texas Coast, Marbled Godwits appear in a variety of color schemes before they depart for their breeding grounds in the Upper Midwest, Canada, and Alaska. When they return in the fall, they show up in faded breeding colors, but will be sporting (you guessed it!) pink bill bases. Given that Marbled Godwits winter along the Gulf Coast, this is probably how most Texas birders see them—but it's fun to see them in other colors.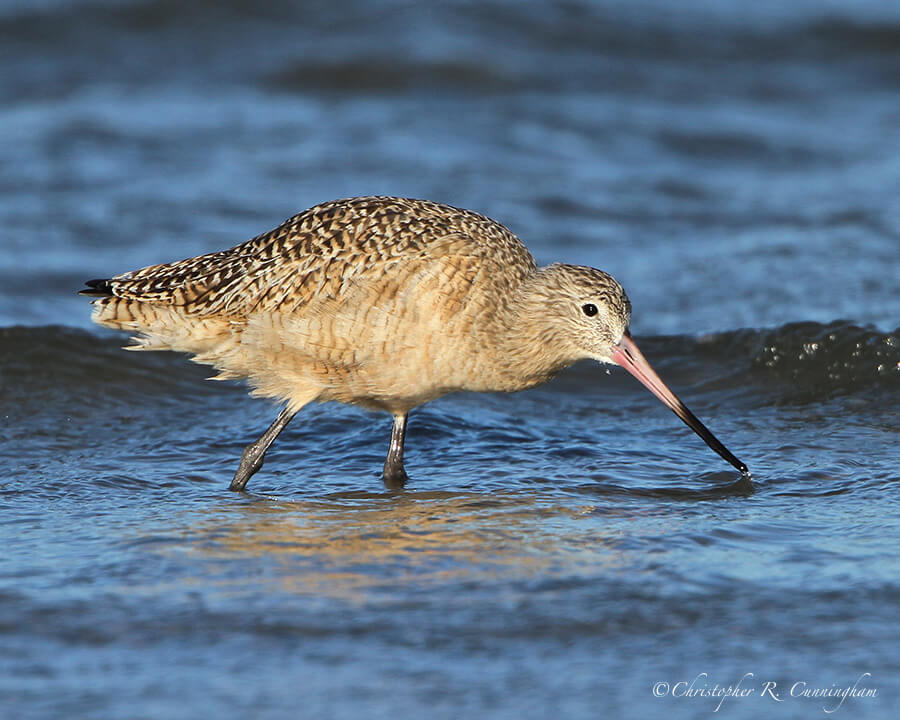 References
Ayala-Pérez, V., Carmona, R., Baker, A.J., Farmer, A.H., Uraga, and Arce, N. 2013. Phenotypic Sexing of Marbled Godwits (Limosa fedoa): A Molecular Validation. Waterbirds 36(4): 418-425.
Morris, A. 1996. Shorebirds: Beautiful Beachcombers (Northword Wildlife Series). Econo-Clad Books. 160p.
To see what is in front of one's nose needs a constant struggle.—George Orwell
©2015 Christopher R. Cunningham. All rights reserved. No text or images may be duplicated or distributed without permission.