I saw a crow building a nest, I was watching him very carefully, I was kind of stalking him and he was aware of it. And you know what they do when they become aware of someone stalking them when they build a nest, which is a very vulnerable place to be? They build a decoy nest. It's just for you.–Tom Waits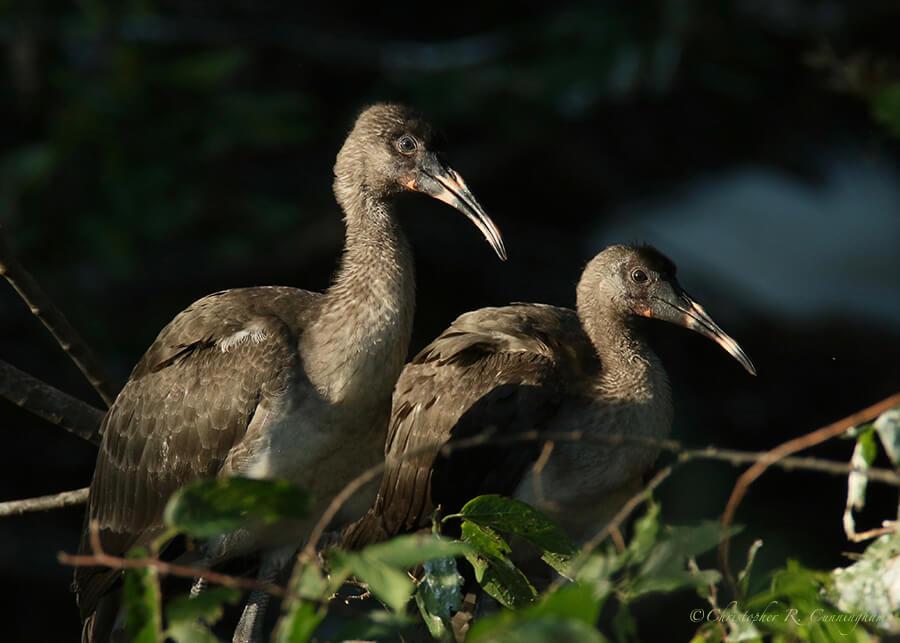 One of the best things about being a birder on the Texas Gulf Coast is being able to continue having great birding experiences right after the spring migration ends. Courtship, nesting, and rearing young continue right into the summer–to be followed shortly by fall migration! In addition to visiting Smith Oaks Rookery as we always do in spring and early summer, we have been visiting the McClendon Park Rookery. White Ibis and Cattle Egrets are the main attractions at this new rookery.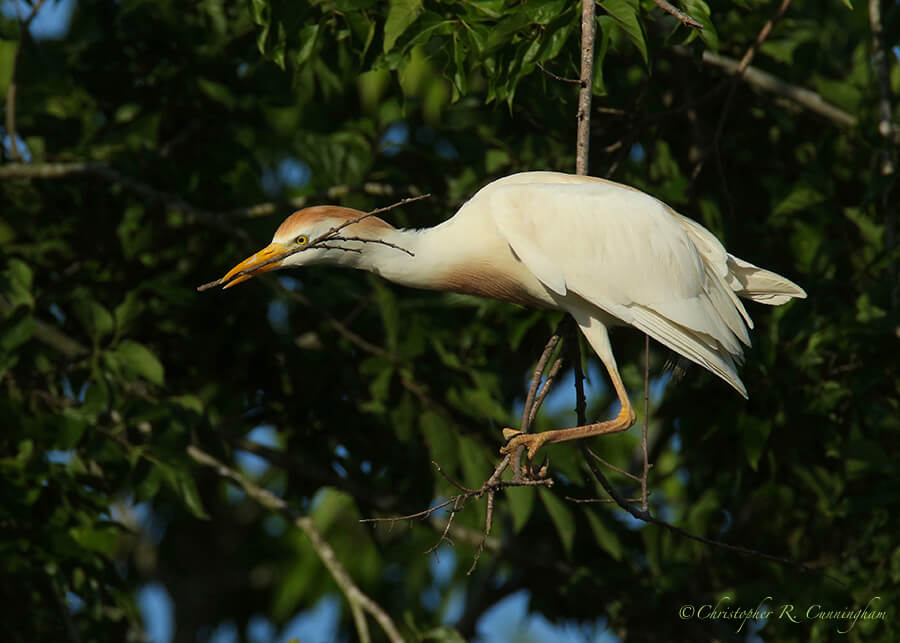 We have seen young White Ibises before at the Pilant Lake Rookery at Brazos Bend State Park, but McClendon offers much better views–but under less aesthetic conditions. I learned a bit about etiquette at McClendon the other day: Did you know that when you drive by photo-birders you should blow your horn and scream gibberish at them? People must be visiting southwest Houston from Dauphin Island, Alabama! Another photo-birder got beaned by a projectile thrown from a passing car at McClendon. There is apparently no shortage of riffraff in this part of town–so watch yourself if you decide to bird here.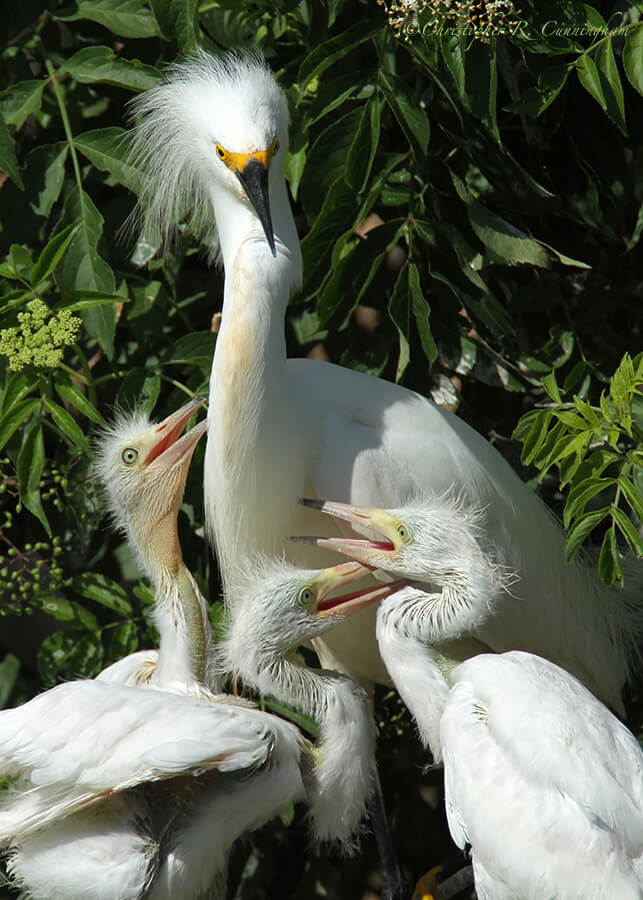 Clearly, rookeries offer observations of some of the most interesting bird behavior–from displays, feeding, and young birds trying to murder each other–and all the adults are in their plumed finery! Snowy and Great Egrets seem to have to most active, aggressive young. We haven't witnessed cormorant chicks trying to kill each other, but they put on quite a show when a parent returns to the nest with food. The violent, in-your-face action makes photography difficult, although we continue to try when opportunities present themselves.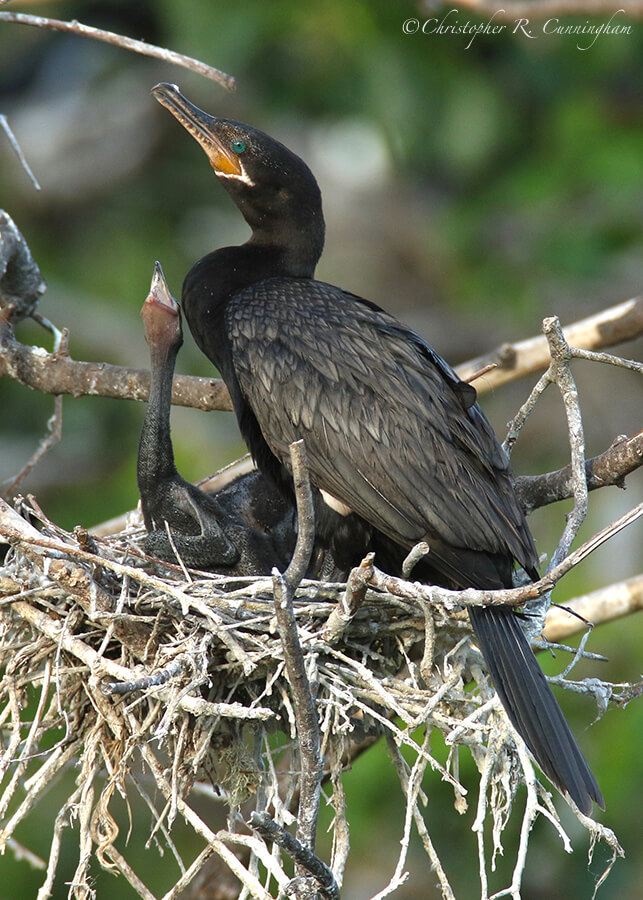 Finally, as we continue to bird over the years, we continue to rack up observations of additional species at new locations. To expand our rookery knowledge, we will now have to travel to more logistically challenging spots–namely rookeries that require a boat to observe. I have briefly observed a Reddish Egret/Tricolored Heron rookery from a distance by boat in Galveston Bay, and can't wait to get back. It's just a matter of time and money. That's all!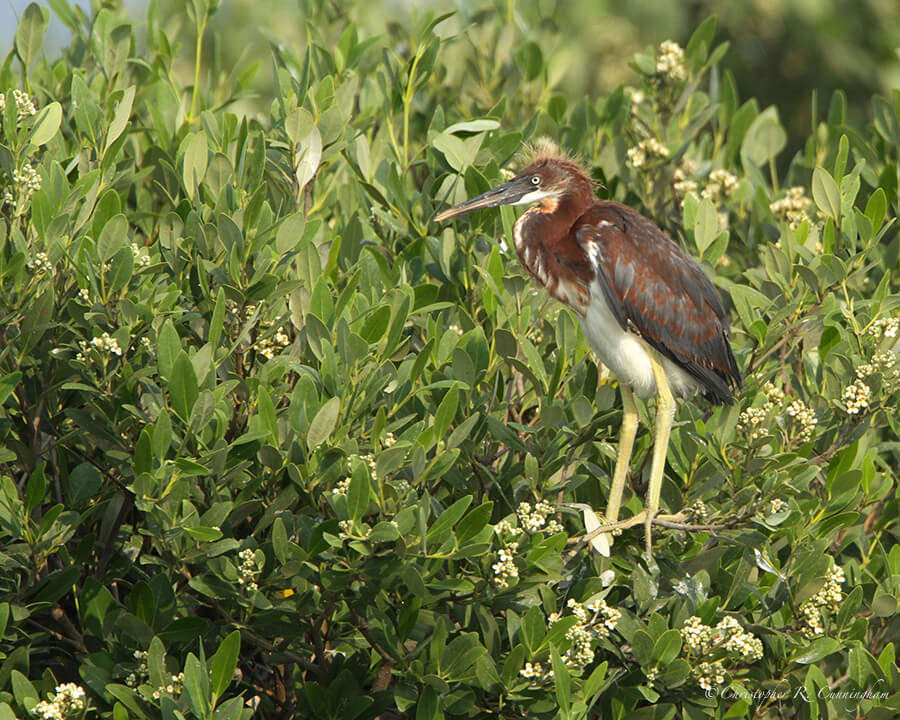 ©2017 Christopher R. Cunningham. All rights reserved no text or images may be duplicated or distributed without permission.