Sunny days (especially sunny weekend days) seem to be in short supply along the Texas Gulf Coast this winter. Happily, this weekend should be among those rare sunny occasions—so we're headed to Brazos Bend State Park (BBSP) to see if we can spot the Least Grebes we saw just after the new year. Allow me take you back in time a few weeks . . . . New Year's Day had come in with a grudge—weeks of damp and dreary days latched on like leeches and drained the life right out of us. So, when the first Sunday of 2015 rotated into place with a bright, sunny sky, we geared up and headed out, giddy with optimism.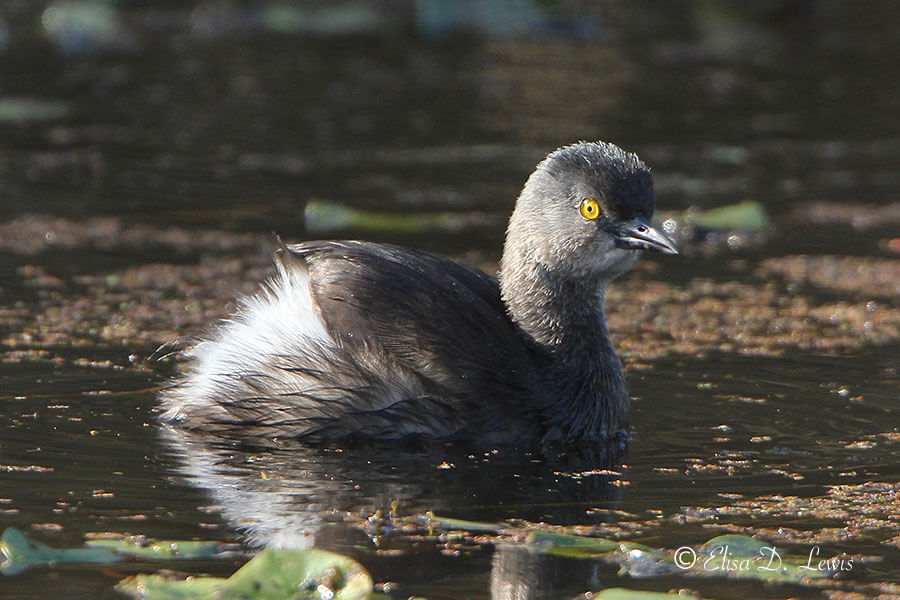 We weren't the only ones venturing out to take advantage of the weather. This Least Grebe with it's powder-puff posterior aimed sunward was practicing "high-sterned sunbathing," according to the literature (Well, that's a polite way of putting it!). The skin exposed by raising the feathers on its back-side is black and thought to absorb solar radiation. It seems reasonable enough. While in this position, I observed the bird paddle its feet back and forth to produce a stationary "waggle," which could be interpreted as at the bird's way of distributing the heat more evenly. You can see faint ripple-marks produced by our rump-warming friend in the photo above.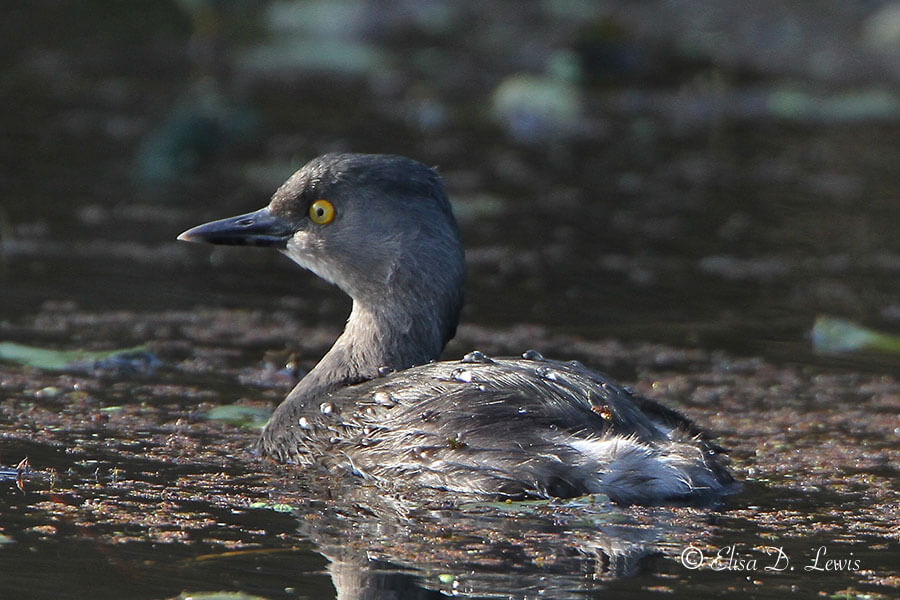 The Least Grebe drew quite a crowd of onlookers along Pilant Slough at BBSP. Aside from being downright adorable, Least Grebes are infrequently seen in our neck of the woods. We usually see Pied-billed Grebes at BBSP. Although Pied-billed Grebes can be seen all over the US, Least Grebes are a tropical to sub-tropical species, and the Texas Gulf Coast populations are at the northern extremity of their typical permanent range. Even our mild Texas freezes can be fatal. As we left the park, I was excited to see two Least Grebes together. We're hoping that they're a mated pair and make it through our winter to raise a few broods!
This slideshow requires JavaScript.
Note: If you'd like to view the slide show at a faster pace, move your mouse cursor over the picture and click the arrow at the desired speed.
Do you see that out there? The strange unfamiliar light? It's called the Sun. Let's go and get us a little." – Nora Roberts, The Hollow
©2015 Elisa D. Lewis. All rights reserved. No text or images may be duplicated or distributed without permission.