The stratosphere is a hostile place.–Felix Baumgartner
As we continue to dig out from the flood nightmare . . . . 
In March, I mentioned to a birder/naturalist friend (RD) that one of the nesting Great Horned Owls on the west side of 40-Acre Lake showed some signs of facial injuries or infestation by ectoparasites. He asked for more information. I have been slow honoring this request . . . but here goes.
Bird nests, especially those of raptors, are not hygienic places. The adult birds drag dead or moribund prey to the nest where it is torn apart and distributed to nestlings. Spilled blood and gore, as well as the birds themselves, are attractive to parasitic insects. Black flies (which incidentally carry avian malaria), for example, are known to be especially vexing to Great Horned Owls.
In the above image, the owl appears to have several small injuries around the eyes. What follows is pure speculation, but perhaps the owl got nicked up in a battle with prey. The wounds would naturally be attractive to egg-laying flies, which feed on necrotic as well as living tissues. The whitish objects on the left eyelid appear to be maggots.
What is interesting is that by the very next day (below) the region around the eyes is very much better (sidebar: this is clearly the same bird. Note the stray white fleck above the right eye in both images). The eyelids still appear injured and crusty, but no blood or maggots are visible. Perhaps this bird was able to clean itself up, or perhaps it got help in grooming from its mate. In any case, this bird appears to have had a brush with fate, and I for one am delighted at the outcome.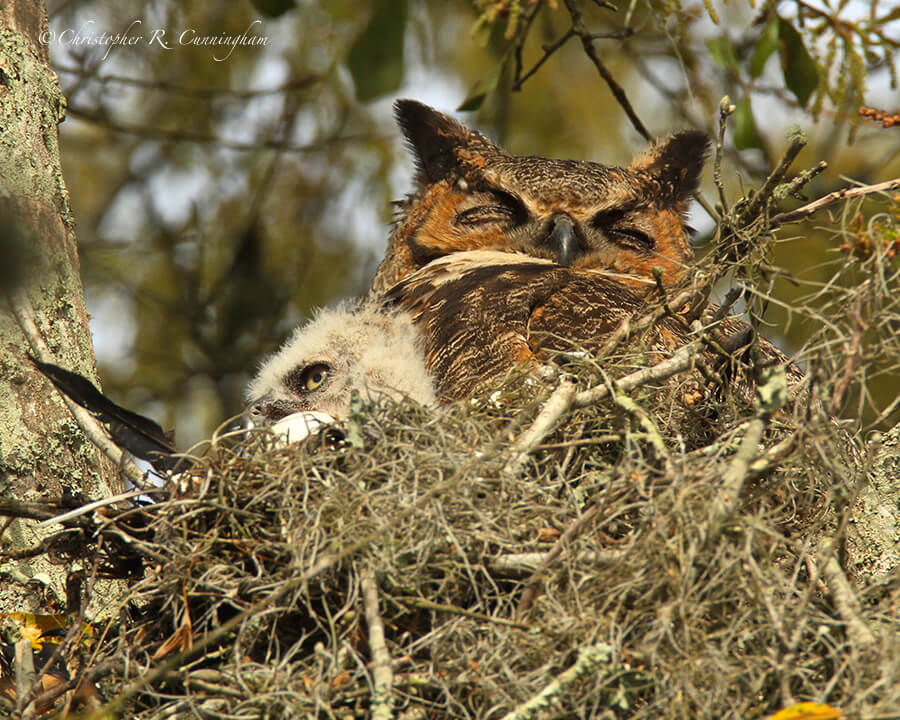 ©2015 Christopher R. Cunningham. All rights reserved. No text or images may be duplicated or distributed without permission.