It's very far away,
It takes about half a day,
To get there, if we travel by my, uh . . . dragonfly—Jimi Hendrix, "Spanish Castle Magic"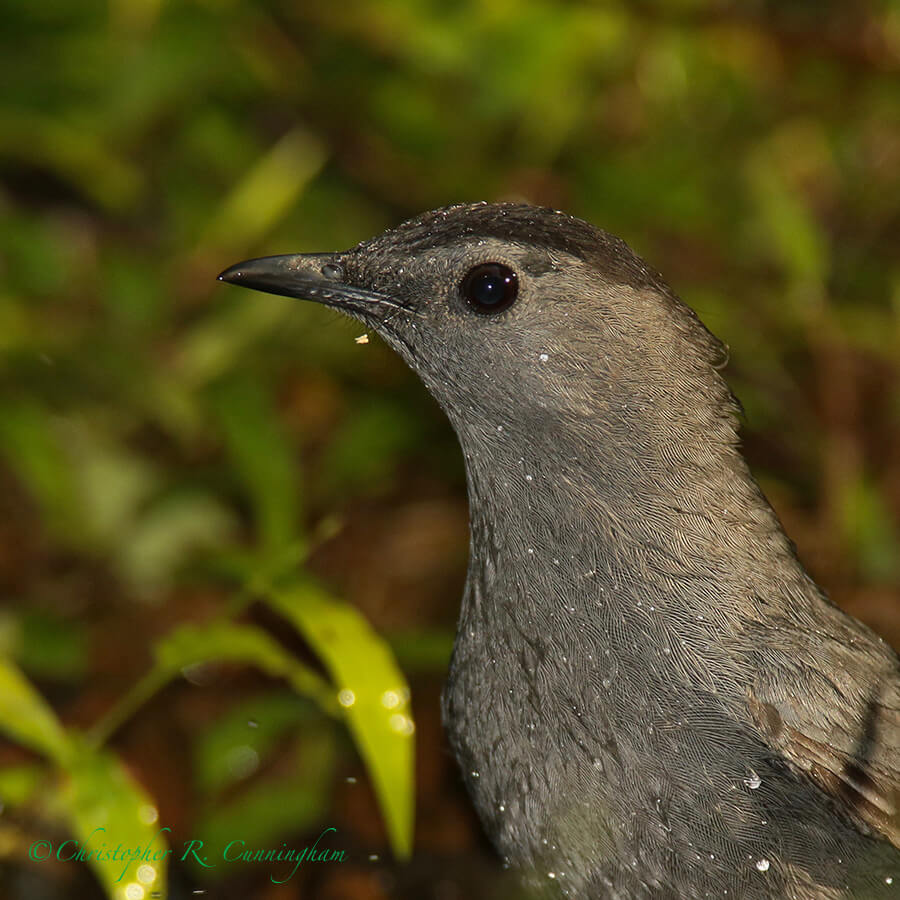 Well, it finally happened. After five brutal months, the first cool front of fall 2016 arrived. And we returned to the field. In just a few weeks' time, I found that my photography skills had atrophied a bit, but in an hour or two I was getting some nice shots again. On Saturday, I visited Lafitte's Cove and found Prothonotary, Palm, and Magnolia Warblers, a lot of Gray Catbirds, Brown Thrashers, and mosquitos without number.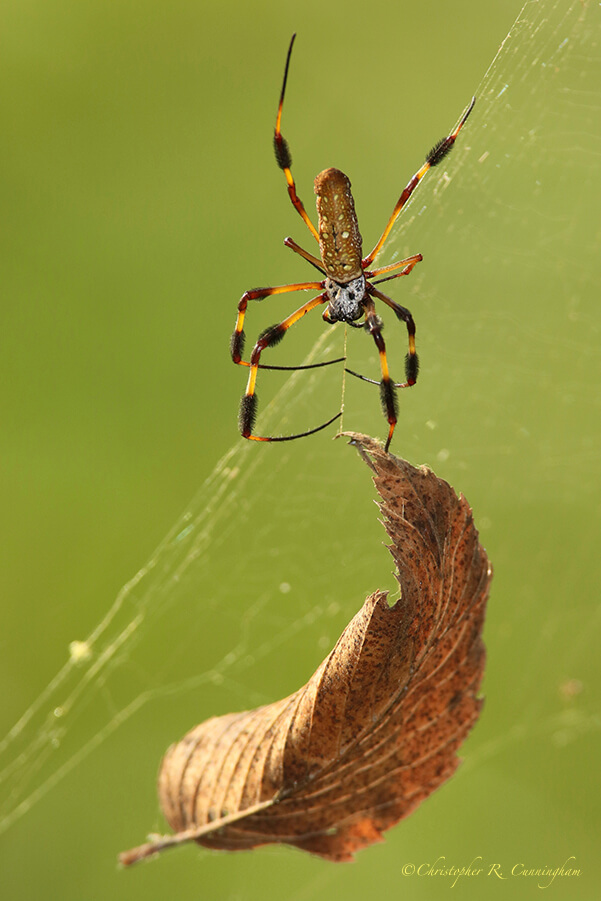 On Sunday, we visited Brazos Bend State Park and observed a flood-disrupted ecosystem. Major portions of 40-acre, Pilant, and Elm Lakes were covered with invasive water hyacinth, and hunting waders, the birds we love to see most at the park, were nearly absent. Here and there, large patches of dead hyacinth revealed where park employees had sprayed herbicide. At both Lafitte's Cove and BBSP, the real story was about arthropods, though, and at BBSP we spent an extended visit with naturalist friend and park volunteer R.D., from whom we learned more about spiders and dragonflies.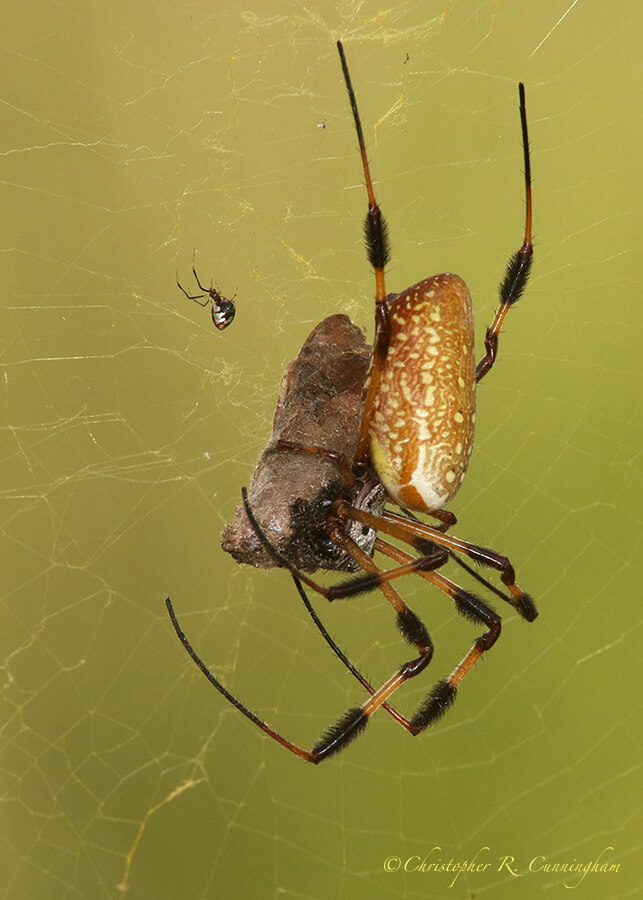 Along the tower trail at BBSP we saw many golden silk orb-weaver spiderwebs. In many webs, entrapped prey and fallen leaves could be seen. We observed several instances of spiders cutting leaves free from their webs. Perhaps the most interesting phenomenon we observed was dewdrop spiders stealing food from the web of their host. Dewdrop spiders are kleptoparasites of the Genus Argyrodes. Although some researchers have questioned whether or not dewdrop spiders were harmful to the orb-weavers (and therefore not parasites), recent studies have documented that the host spiders suffer nutritionally and must repair damage to webs caused by the small spiders as they remove entangled prey. Apparently spiders take better care of webs that they themselves spin!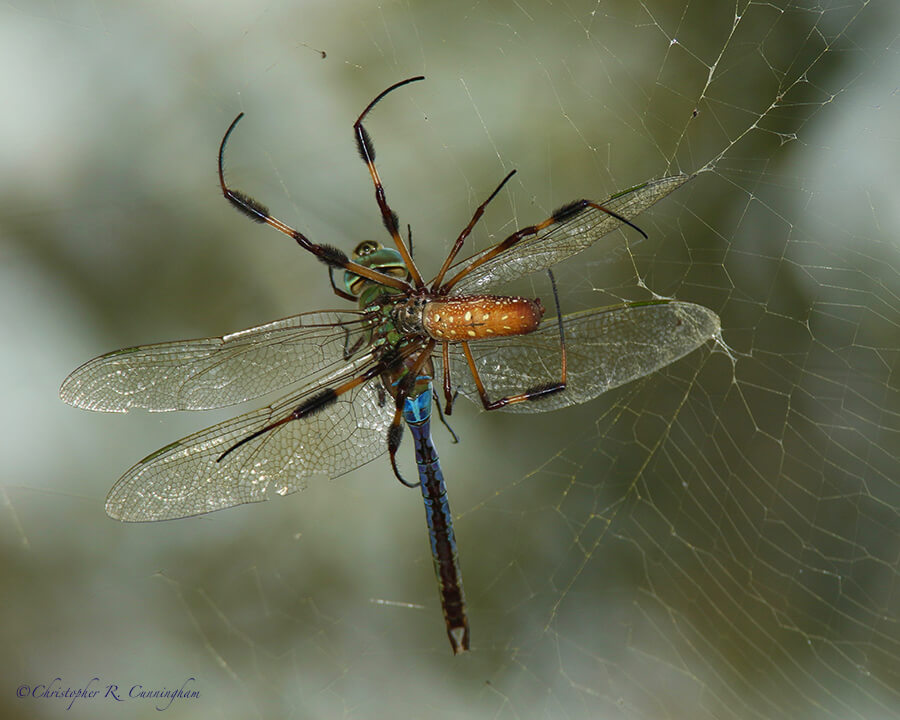 The green darner (Anax junius) migration was in full swing, the air filled with millions of these large dragonflies, many mating. Lots of other dragonfly species were zipping around, too. Black saddlebags (Tramea lacerata), many also coupling, even seemed to predominate at Lafitte's Cove. Dragonflies are an important food source for birds, and I have seen several species of waders (Snowy and Cattle egrets, and Little Blue and Green Herons) and one species of warbler (Prothonotary) eat them at BBSP.
Although dragonflies seem to be a favorite food among birds, orb-weaver spiders seem not to be. Big, juicy spiders sit right out in the open while predatory birds typically operate all around them. The orb-weavers would certainly be easier to catch than a dragonfly. Perhaps the arachnids taste bad. I have heard anecdotally, though, that during drought years the orb-weavers essentially disappear from the park. Does this mean that birds will eat them if they get hungry enough? Other possibilities do exist (like humidity-sensitive fungal infections of spiders or eggs), but the report is certainly food for thought.
©2016 Christopher R. Cunningham. All rights reserved. No text or images may be duplicated or distributed without permission.